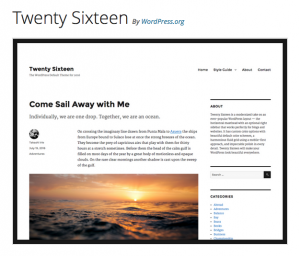 News Entry: December 9, 2015 — Today WordPress rolled out its latest version, 4.4, which I immediately updated, because, well, that's what you do if you have a WordPress website.
But wait! There's more! There's also a brand-new theme, Twenty Sixteen.
WordPress themes
WordPress themes are pre-loaded styles for your website, and the last few have come out-of-the-box in a mobile-friendly format. They are of course imminently customize-able, especially when used with a child theme, which I always use, natch.
The importance of mobile-friendly websites
Given that mobile has now overtaken desktop online and Google's decision earlier this year to move mobile-friendly sites to the front of the SEO line, it's surprising how many websites are still not mobile friendly.
(To see whether yours is, visit your website on your phone. Do you have to zoom in to see the menu? Then it's not mobile friendly.) If you have a WordPress website, making it mobile friendly is not the traumatic endeavour that it can be when you have a custom-coded site.
Two thumbs up for Twenty Sixteen
I decided to check out Twenty Sixteen right away, which is super-easy since the site is still in development. I really like the layout, and especially the way the menu displays on desktops. So I have decided to give it a go.
So far so good!
Stay tuned for more.
~Tamsen
December 9, 2015